Y'all, Tatorthoughts has done it again and partnered with someone so sweet just in time for Halloween!
Mrs. Dametra Thompson-Thomas the owner and operator of bow babies Has partnered with us to bring fashionable hair accessories and infant barefoot sandals with matching bows to our audience's attention and let me tell you they steal the show!
She's also been so kind as to create a beautiful hanging now holder to help display her quality alligator clip bows!!
She was so gracious as to send us so many of her amazing creations!
I'll drop an itemized list here:
1 Breast cancer awareness ribbon alligator clip bow
1 delightfully spooky spiderweb Halloween themed alligator clip bow
1 Cartoon turkey Thanksgiving-themed alligator clip bow
1 Candy cane Christmas themed alligator clip bow
1 cupcake ribbon birthday-themed alligator clip bow
1 Red and green glitter print Christmas bow that I am calling "The poinsettia bow" it also has an alligator clip
1 pair of jeweled light purple flower barefoot sandals and a matching bow headband
1 pair of red flower & checkered barefoot sandals with matching headband bow that remind me equally of the wizard of oz or something a small child would wear on a Georgia bulldogs game day but since not everyone is a Georgia fan I've coined them "Dorothy slippers".
1 BEAUTIFULLY CRAFTED, initial S letter bow hanger for display, adorned in vibrant rainbow colors and butterflies both hold very significant meanings with us and I love that she includes such special details in everything she does!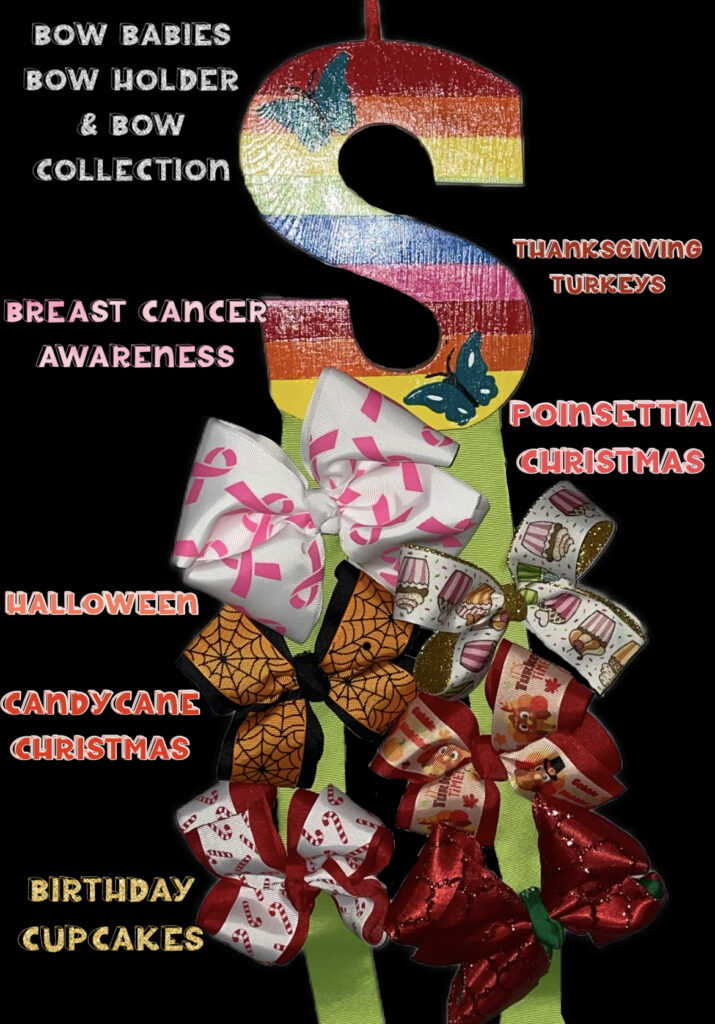 Her craftsmanship is incredible these bows are well-made and they will stand up to almost any beating from the most tomboyish of girls, and long outlast any love that they are given! These bows are definitely keepsake worthy and I think I speak for everyone when I say most any bow babies product will be retired once outgrown and passed down when the time comes!
This bow holder will be hung on my daughter's wall for years to come and fits with anything that her room might change into which we LOVE! Versatility for the win!
Not only are the bows and barefoot sandals well-crafted they're made with love by a mom herself using high-quality materials, made to last, and made to make a statement!
Moms and their dreams & passions are limitless! Amiright?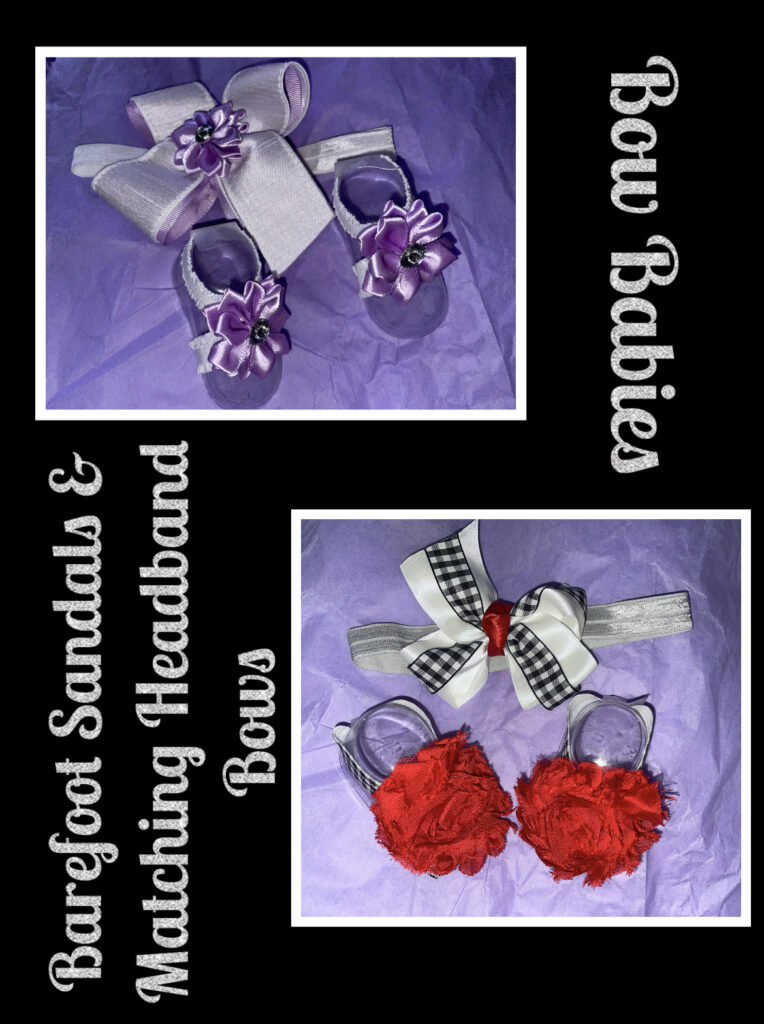 Her products however aren't the only things that make a statement.
Her incredible customer service, attention to detail, openness to custom orders or ideas, drive and quality packaging & presentation skills are bar none!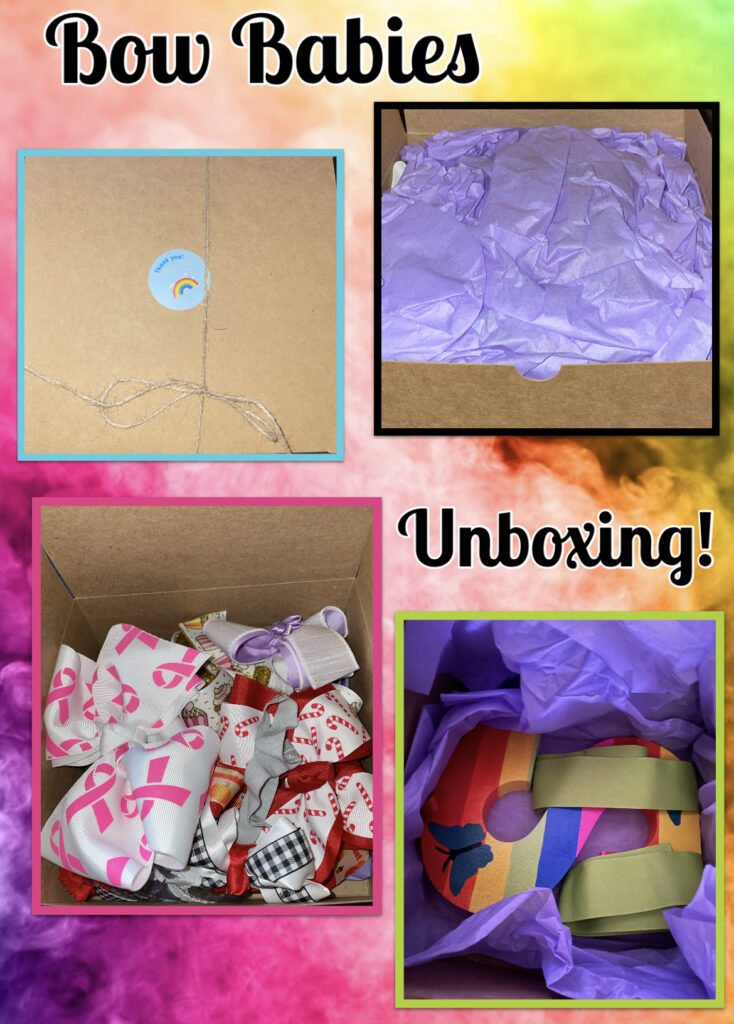 When I opened the shipping box that arrived just when expected I was surprised to find a second well-packaged box inside complete with an outside twine tie & rainbow sticker.
Items on the inside were well packaged & protected neatly ordered together and wrapped in a nice light lavender tissue paper separating item types as to not have the alligator clips scratch the beautiful paint on the bow organizer in transit.
These products are perfect holiday additions, great gifts for special occasions & birthdays and perfect for everyday staples also!
I'm very proud of this partnership and all the meaning behind it, so thankful for incredible partners like Mrs. Thompson-Thomas.
I'm extremely proud to associate myself with such kind wonderful people as it reminds me good is in the world and it's uplifting other moms, other people with real dreams that matter most to me.
I'm thankful for this opportunity and Tatorthoughts would like to welcome bow babies to the team! I very much look forward to working with this company in the future and showcasing the next & newest of her wonderful creations!
To order your own bow babies creations & start your collection visit the link below:
let her know we sent you!