You may think hand made clothing is a thing of the past. I'm here to tell you it's not!
Tatorthoughts firmly believes in celebrating individuality, and all things unique in life.
Of course mass produced clothing garments have their place in the market and can become meaningful, sentimental keepsakes for many but there's something that stands alone among those things.
Hand made, custom entrepreneurial dreams.
These things may seem to be just simple fabric and stitching but to me these items are so much more.
They represent the meticulous, artistic passions of a mother. Taylor welsh of Momma Made Designs LLC pours love and compassion into every item she creates and does so with pride.
As a mother and caregiver being able to showcase these personalized items is an honor and privilege her skills are impeccable and not even the best of photos give her craftsmanship and product quality justice.
For this review we are featuring
A size 3t custom "hidden Mickey" dress
(I suppose you could call it anything you like, we've coined it the "hidden Mickey magic" dress because my daughter and I were absolutely blown away by the sight of it upon opening the box. And love that even the inside of the dress has Mickey fabric lovingly sewn into it!)
A size 2t "bipity bopity boo" dress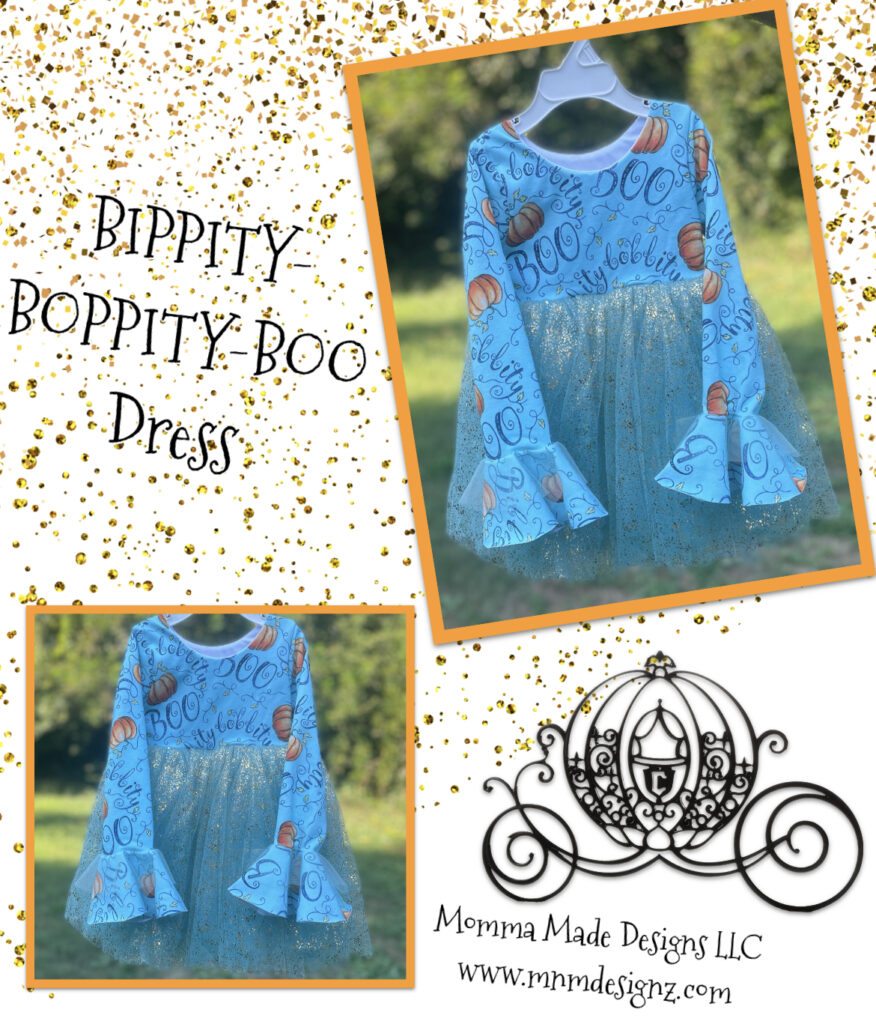 With incredible sleeves and tule skirt detail.
2 SURPRISE matching headband bows that Taylor so kindly included without my prior knowledge to accompany both dresses.
& last but not least A size 5t Boys Dino outfit shirt & pant set. 

As a mother of sons the fact that Taylor also offers boys products through her shop rather than solely catering to girls clothing means the world to me.
It is with pride that I'm able to say my sons aren't always excluded from the finer things simply because they are males.
It's also incredible that many of her items including this Dino set could be gender neutral, this could be paired with a bow for a little girl or worn as is!
The saying often goes "you get, what you pay for" and in this case it absolutely rings true. Momma Made Designs LLC offers high quality, customizable children's clothing and accessories made with quality materials, love and precious time meticulously spent.
It is evident that Taylor is a mother as you can see her loving parental touch shine through with every item.
Supporting small businesses helps families and dreams flourish.
If you are looking for anything with a unique touch to adorn your children in whether it be for family photos, church, everyday wear, special occasions, dress up or your next Disney adventure I highly recommend you reaching out to www.mnmdesignz.com with your need! You will be met with top notch customer service, impeccable products and irreplaceable memories afterwards all with the satisfaction that you've also supported someone else's dream.
You can shop Momma Made Designs LLC products by visiting their website: www.mnmdesignz.com
Or via Facebook at: