When you hear "fisher price" what's the first thing to come to mind?
It may be your own memories of childhood toys, their commercials, or their quality but the company founded more than 9 decades ago is so much more than the toys they develop that surely became a staple in most of our lives as parents and children ourselves.
In honor of fisher prices 91st anniversary on June 19th I'm showcasing two incredible FP products that aren't toys! Are they a toy manufacturer? Absolutely, are they education & development oriented? Of course! But they're also makers of baby & toddler gear such as swings, high chairs, booster seats, bath tubs & so much more!
My son and daughter who most of you know are 14 months apart used the same multi directional swing made by none other than Fisher-Price!
Having kids so close in age has its perks for sure & was perfect for our family although it's not for everyone, but just when I thought our house couldn't be more overrun by at least 1 of everything Fisher-Price I realized, we NEEDED something that Raiden & Sawyer didn't have, high chairs we could take on the go!
Don't get me wrong we had high chairs, Three of them to be exact. before we ever purchased our take along set however they were at home seats Two Graco brand, one of which is a multi piece table height adjustable traditional high chair that is portable but not small space friendly we learned this the hard way hauling it to and from Raiden's first birthday party at almost 7 months pregnant and one 6-in-1 high chair, booster and table combo which Raiden got at his first birthday party that very same day. Both are great but have their drawbacks and they're more suitable for at home use, at least for our family specifically. Sawyer's home high chair however, was a baby shower gift and it's a fisher price in chair booster too! But that's not the one we're featuring today.. as great as it is and as much as we love it it wasn't feasible to transport that seat everywhere we went either. The fabric seat cover would get easily dirty, it's bulky and doesn't make sense to drag it everywhere we went either especially not during a pandemic.
We needed something safe to use at home as well as something sturdy, compact, and lightweight for on the go once we re-emerged after a year inside but easy to clean was also a must to cut down on germs.
Which brings me to today's review!
(Finally right?! Tator get to the point!)
I found everything I was searching for and then some! And it's no surprise they're FP products!
**Below I will include stock product photos and IRL use photos taken of my kids, living their best lives thanks to FP. **
Fisher-Price® Healthy Care™ Booster Seat (Sawyer's on the go seat)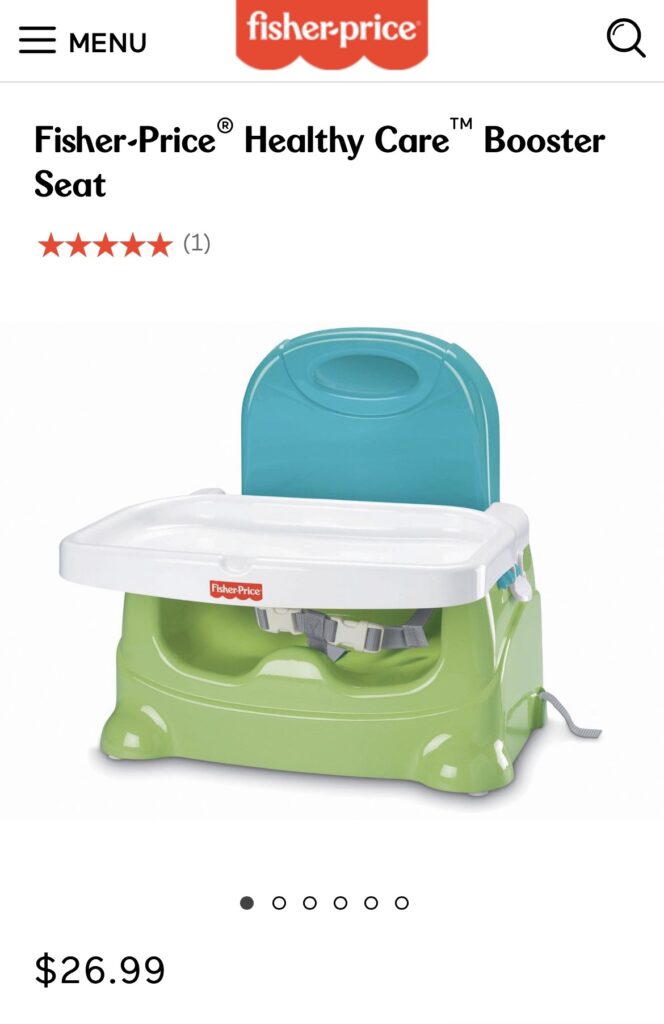 Product#: BMD93
Released in 2013
The Fisher-Price® Healthy Care™ Booster Seat has a feeding tray you can sanitize right in the dishwasher, all of the surfaces can easily be wiped and disinfected, there are no crevices to hide crumbs or spills therefore the seat harbors no bacteria! Front and rear seat straps adjust to help you fit the seat on almost any chair! Folds compactly for portability, with a carry strap so you can take everywhere baby goes and this Tray and seat back remove for easy conversion to a portable toddler booster seat!
•A great fit for most dining and kitchen chairs.
•Dishwasher-safe feeding tray.
•Adjustable 3-point harness, so your precious little one is always snug!
•Folds for portability with convenient over-the-shoulder carry strap, which comes in handy especially when you're carrying more than one seat, or child! (speaking from experience here!)
Item arrives in frustration-free, easy-to-open packaging that's 100% recyclable. which I think is great but the packaging appearance leaves something to be desired, but recyclable cardboard is cardboard so I really can't complain. It definitely doesn't take away from the item itself or the gift ability of the item! These things are a baby shower staple gift now, coming from someone who's had multiple showers herself!
This seat is perfect for Sawyer, gender neutral colors, easy to clean, set up, & fold down and it's even better for accommodating her size! Sp is a very tall yet light and small statured baby girl at 19lbs and more than 32 inches. (she turned ONE, the day before FP turned 91!)
Fisher-Price® Healthy Care™ Deluxe Booster Seat 
(Raiden's on the go seat)
Product#: BMD97
Released: 2013
The Healthy Care™ Deluxe Booster Seat has a feeding tray you can sanitize in the dishwasher, with a snap-on lid so the tray stays clean wherever you go! Three height adjustments allow for a custom fit to any table; front and rear seat straps adjust to fit almost any chair! Folds compactly for portability, with a carry strap so you can take it anywhere. Tray and seat back remove for easy conversion to a portable toddler booster seat.
•Snap-on lid keeps feeding tray clean.
•Built-in cup holder.
•Removable compartmented serving space.
•3 height adjustments.
IN ADDITION TO all the qualities listed for Sawyer's seat!
These seats are essentially the same, one just has additional features and therefore is the upgraded version but for all intent & purposes we got both!
we love Raiden's seat because like Sawyer'a booster accommodates her the deluxe booster accommodates Raiden! My nearly 4-foot-tall, almost 40lbs 2 year old. (27 months to be exact)
we love that these boosters are versatile and either seat can be used by either child!
we used them multiple places & events in addition to the fact that my wonderful mother in law currently has the seats so that the kids are 100% prepared to go hang out with Mimi & papa at any time!
I've made a lot of great purchases as a parent but I have to say, these are probably two of the best products we own for them!
This just proves fisher price has been on their A-Game for a very long time! Yes these seats were released in 2013 but they have stood the test of time! And yes we have family members that had these seats as well as earlier models so clearly they're worth the $27 & $35 USD respectively!
If you're interested in purchasing either model you can find them both on Amazon and at target as well as directly from
Fisher-Price.com!
You can find these boosters and several other models including sp's at home booster by clicking on the link below! ⬇️⬇️ (You're welcome!)
https://www.fisher-price.com/en-us/shop/category/baby-gear/high-chairs-and-boosters