I partnered with the great people over at handcraft & trust me when I say they don't disappoint. I was blown away by their generosity and product quality. Where has this company been all my life?!
Because of their generosity I received an abundance of things to share with you. Here's a detailed list of everything:
Girls: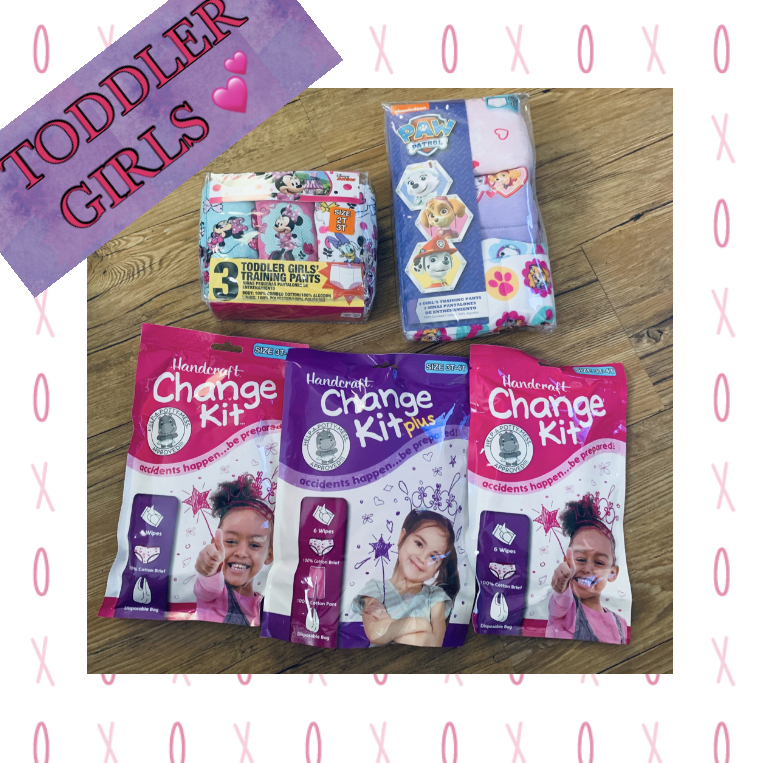 -2 Handcraft girls change kits in size 3T-4T
-1 Handcraft girls change kit PLUS in size 3T-4T
-1 3pack Disney junior Minnie Mouse toddler training pants in size 2T-3T.
-1 Nickelodeon paw patrol girls training pants 3count in size 3T.
Boys: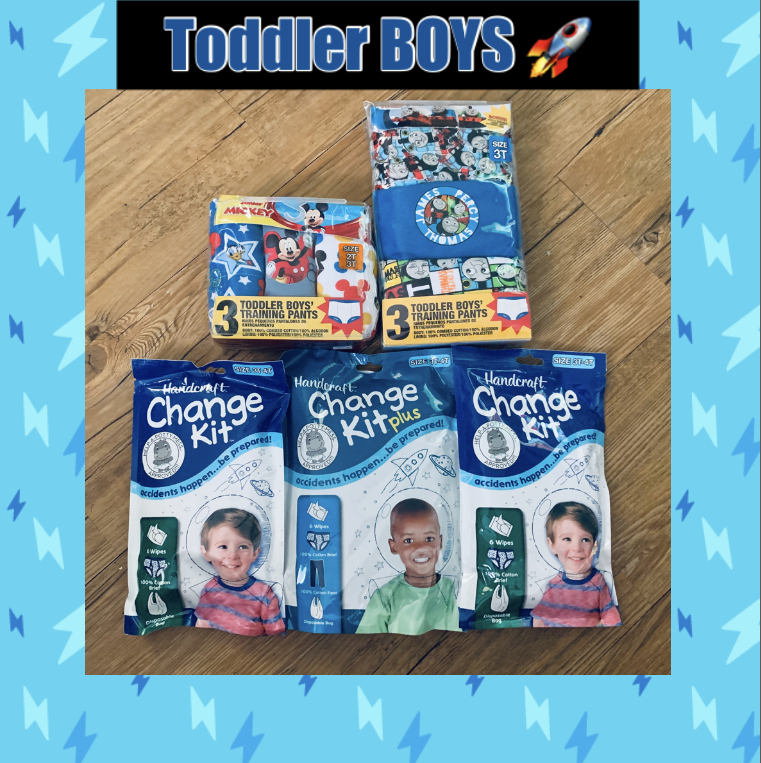 -2 Handcraft boys change kits in size 3T-4T.
-1 Handcraft boys change kit PLUS in size 3T-4T.
-1 Disney junior Mickey Mouse 3 count toddler training pants in size 2T-3T.
-1 Thomas & friends 3 count toddler boys training pants in size 3T.
I also received one GENDER NEUTRAL Handcraft potty training kit. 

Each potty training kit includes:
-1 potty training chart
-1 set of reward stickers
-1 plus toy
-1 book
-1 parents guide
-& 2 training briefs!
Regardless of gender Each regular change kit includes:
-6 wipes
-1 pair of cotton briefs
-1 disposable bag for containing any messy clothes.
However the change kit plus varies by 1 item… PANTS! You heard me correctly. I said pants!
So you get all the above mentioned kit items plus a pair of pants in every change kit plus!
Speaking as someone who works with potty training children, I would MUCH RATHER pull a Handcraft change kit or change kit plus out of a child's backpack over having to search for clean underwear or a pull up and a clean outfit in the midst of an accident where time is precious and contamination is definitely a possibility.
Potty training is difficult and sometimes even scary for adults and kids, all kids are different so no potty training experience will be the same but Handcraft helps bridge the difficult gaps by providing all the essentials for potty training even making it fun from plush toys and parent guides contained in the potty training kit to making accidents worry, stress and embarrassment free by providing change kits for when the inevitable happens.
Just remember it's a learning curve for everyone but the difficult phases pass and thanks to Handcraft they pass a little more smoothly for children, for parents and for caregivers!
Handcraft products are quality, durable, and clean at a more than reasonable price range.
Their products accommodate a wide range of interests, development levels and sizes to allow growth.
It's clear effort and thought are put into every part of the production and marketing process for their company.
The Handcraft team was excellent. Super fast, friendly and went above and beyond to make this featured review a reality. I'm blessed to have been able to partner with such a wonderful company so quickly. I look forward to the opportunity to continue working with them in the future.
I doubt I'll ever recommend other potty training essentials! #PottyTrainingGenius
You can browse available products here: